Shifts In Marketing: The Value In Outsourced Marketing
Shifts In Marketing: The Value In Outsourced Marketing
In a survey by Adobe, 76% of marketers agreed that "marketing has changed more in the last two years than in the last 50." As Bob Dylan once said, "For the times, they are a-changin'." At any rate, the rules for marketing are changing with every app and upgrade.
Now ask yourself this: within your own organization, how have the marketing responsibilities changed in the last two years? Any re-defining of roles? Any re-structuring? Or have marketing responsibilities just shifted around or lumped onto existing personnel?
If this line of questioning makes you twinge a bit, don't worry – you're not alone. Panic and anxiety are common responses to contemplating the cost of catching up with all the "benefits" of technology.
But honestly, it's not as bad as you think. A simple solution lies within the old adage, "Why reinvent the wheel?". That is to say more clearly – outsource more of your marketing.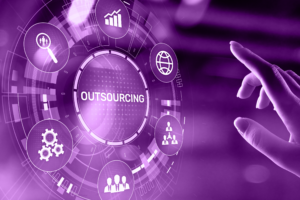 Books have been written on the economics of outsourcing, literally. We do it so often with so many other operations – legal, accounting, customer services, and more. So it's logical to utilize for today's marketing landscape.
The top three reasons to outsource your marketing:
1. Cost
What could you do with $120K+? For the salary of one marketing executive, you could outsource your marketing needs without hiring and benefit costs.
The productivity of those who are shouldering the marketing responsibilities goes up.
No fixed overhead, manage costs as a variable expense.
2. Time
Quick response time. Resources are already in place – effective marketing depends on speed.
No downtime and learning curve with training and cross-department chatter.
3. Experience
Allows your team to focus on what they are good at.
Best practice guarantee – you're contracting experts in the marketing field.
Up to date effectiveness – trends change quickly, therefore outsourcing to marketing professionals assures relevance and effectiveness.

Deksia understands you've got a lot on your plate and that keeping current is your focus. We'll provide the hammer, you worry about swinging it!
Click here for more information on the benefits of outsourcing your marketing.