Startup to Upstart: Creating a Challenger Brand.
You might call it magic. We named it Accufoam. Accufoam is a rapidly growing start-up that is working to upend the multi-billion dollar spray foam insulation industry. Headquartered in Alabama, founded in 2017 and formally launched in 2020, Accufoam is pioneering the next generation in spray foam chemistry.
Accufoam is a division of Creative Polymer Solutions, which has assembled a murder's row of foam- and polymer-industry chemists, executives, and production engineers. Their passion? Foams and polymers. Their goal? Nothing less than to build the next generation of innovative brands. Over the past ten years, the industry has consolidated. This wave of consolidation has left the industry stagnant and its customers, the contractors and subcontractors who build our housing stock and infrastructure, underserved.
Creative Polymer Solutions approached Deksia for help in several areas:
Name its foam products and foam division
Create a brand hierarchy that would launch the products while managing the relationship with the CPS brand
Develop a marketing plan to launch the new brand
Build the assets needed to put that plan in motion
Help guide and manage the marketing of the brand going forward

Discovery
CPS had a Vision. We had to understand it.
Creative Polymer Solutions' team spent two and a half years developing its open-cell and closed-cell spray foam insulations. Most product teams would have stopped once they had a foam that was "good enough."
But the CPS team wasn't interested in "good enough." They were striving to create nothing less than the world's most precise spray foam. They wanted it to be easy to apply, resistant to clogging, high-yield, reasonably priced, and to perform with the utmost predictability in the field. They wanted the contractors who used it to be able to achieve lab-like precision in the field.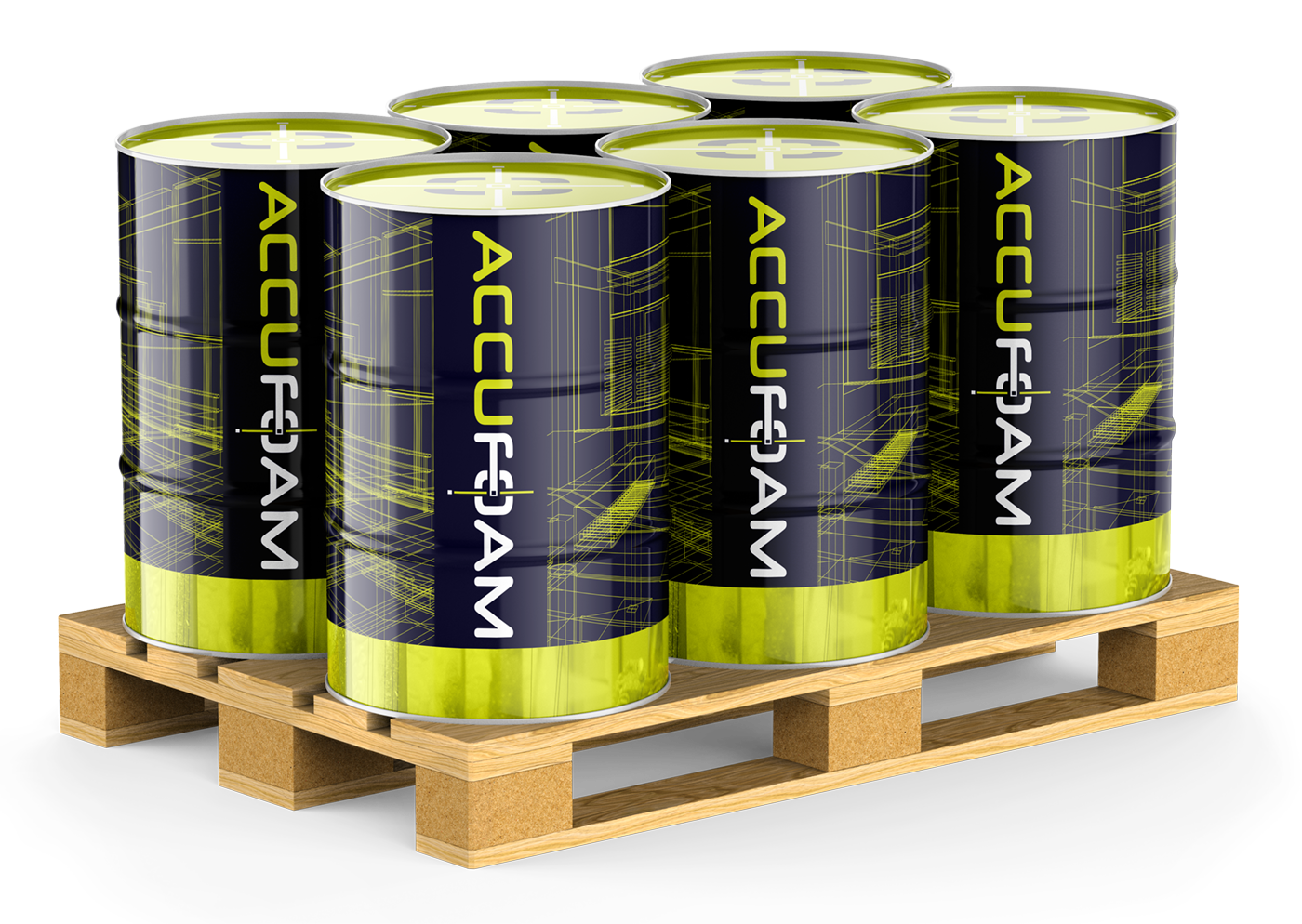 Deksia performed extensive shareholder discovery, uncovering both the outlines of its vision, the origin of its products, and its future objectives. We also conducted a detailed survey of spray foam contractors to discern the contours of the market and surveyed CPS's initial customers to validate their experience with its spray foam product.
As we gathered more information, the contours of the challenge became clear.
What evidence can you share that demonstrates the impact of the engagement?
The booth popped when we launched this brand at a trade show. Their designs were crisp, and they created a name that speaks to our work.
DEKSIA has been able to create a presence for us that has made a big impact. When talking to new customers, we hear them say that they see us everywhere. People ask about our products in our distributors' facilities.
Accufoam
How did DEKSIA perform from a project management standpoint?
Their overall communication is excellent. About once a month, we have a meeting during which we check the pulse on the campaign. We review metrics and talk about any to-dos and deadlines. We need to provide them with information in order for them to perform. They'll tell us what they need to bring us the deliverable. That process is nice.
Accufoam
What did you find most impressive about them?
I was impressed by how much they learned about our business and industry. Their team researched us to understand how we could fit into our industry. They didn't just create a catchy logo or icon. Instead, their team learned about our company and its goals to create a message behind it.
Accufoam
Do you have any advice for potential customers?
Give DEKSIA a chance and let them do what they do best. You'll be very pleased.
Accufoam
Brand Strategy
What kind of brand? That of a product or a company?
In discovery, we learned that Creative Polymer Solutions had other products under development and had a complex set of audiences it would have to market to. For legal and finance audience, it was important to maintain the Creative Polymer Solutions brand. CPS was and is the corporate entity that exists for the purpose of developing and launching these foam and polymer products.
It was equally clear that the spray foam products CPS had developed needed a strong name of their own. The spray foam industry is a highly competitive one, with hundreds of products offered for sale. Market confusion is rampant and CPS would need a product brand that could grab attention and create a memorable impression.
The key question, though, was what kind of brand would we be developing? Generally speaking, there are three different approaches to establishing a brand hierarchy.
Corporate Brand is Most Important; Product Brand Is Subsidiary.

Nike is a good example of this approach. With the exception of its Air Jordan sub-brand, Nike leads with its company name. Nike Golf, Nike running shoes, Nike swimwear—each of the products of those divisions has a brand name, but you'd be hard-pressed to remember them. You do remember, though, that they all carry that swoosh logo.
Product Brand is Most Important; Company Name Is Subsidiary:

Proctor and Gamble and its many billion-dollar brands are the paradigmatic example of this approach. While a Wall Street analyst surely knows P&G, the consumers of Tide, Swiffer, Gilette, Palmolive, Olay, et. al. are loyal to the product brands, not P&G.
Blended Approach Where Company & Product Brand Have the Same Weight:

This is typical in the car industry. Honda Accord. Honda Odyssey. Porsche 911. Porsche Boxster. Ford F150. Ford Taurus. In this approach, the product brand accrues to the company brand, and vice versa.

After evaluating each of the possible strategies for establishing a brand hierarchy for CPS, Deksia recommended the second approach. We would develop a product brand that, from the standpoint of the customer, would almost seem to be a company in its own right. Why?
CPS has other products under development

that it would market to different audiences than the spray foam contractors its insulation product would target. Having other polymer products sold side-by-side the foam insulation could confuse each product's respective audience.
Consolidation had created a market opportunity.

Research indicated customers were ready for a customer-focused brand. Emphasizing CPS brand might make it appear like the conglomerates it was created to challenge.
New foam insulation products were also in the pipeline.

Emphasizing the product brand would provide a method that might better emphasize the family of foam insulation products.
Naming
A great brand starts with a great name
With the brand strategy established, we set out to name CPS's foam manufacturer.
Naming has always been a difficult challenge. Consider the challenges of naming a child. Couples often deliberate for months before settling on a name for their child, and they're selecting from names that already exist.
Naming a company or a product, on the other hand? The standards are high. You want a name that is fitting, meaningful, memorable, easy to spell (and type into a Google search request), uncommon (so you have a chance of being found when people search), unique within your category (because trademarks), with a URL that is both available and sensical.
Then reality sets in. Most of the "good" names? Already taken. If a name comes to mind, it's virtually certain that it comes to mind because you've seen, heard of, or bought a product with that name on it before.
When naming the foam company, we did what we always do: brainstorm hundreds and hundreds of names. Then we painstakingly check each one, only to return to brainstorm some more.
Then we whittle the list down to the strongest candidates. Is it on strategy? Is it likely to resonate with our target audiences? How does it compare to the competition?
Usually, there are three or four names that could work and we deliberate with the client until a leading candidate emerged. And sometimes, the clouds part and a name appears that is available, on strategy, and ideal in virtually every respect.

That's what happened here. "Accufoam" was, astonishingly, still available. It speaks to the precision and quality of the product, the ambitions of the division. It's memorable, catchy, evocative, and in our humble opinion, perhaps the best name in the entire industry. It was our strong recommendation and CPS agreed.
We also had to name the two products Accufoam would launch with. How would the Accufoam name relate to the product names? What naming strategy made the most sense?
Because the Accufoam name was so strong, we concluded that in common use, people would start referring to both the product and the company as Accufoam. So while we suggested possible names, our recommendation was to use category acronyms to distinguish the products. Accufoam CC would be the closed-cell foam; and Accufoam OC would be the open-cell product.
Launch and Marketing Plan
Bring the Brand to Life
Now that Accufoam had a name, it was time to put the marketing plan in motion.
Broadly speaking, you can group marketing tactics into either of two categories:
Attention-Getting Tactics:

These are things like ads, emails, trade show booths, and social media content that are designed to go out to the market, meet users where they are, and attract and nurture the attention of your target audience(s).
Brand & Conversion Tactics:

These are things like your website, landing pages, sales collateral, brochures, identity system, photography, signage, lead magnets, sales videos, and other brand assets that communicate who you are once you've gained the attention of your audience(s) and/or works to turn a prospect into a customer.
Because Accufoam was a new brand and a new product, both kinds of tactics would be critical to launch it and help it gain traction in the marketplace.

While Accufoam continued recruiting its initial test customers, Deksia worked to create the brand assets it would need to tell its story, solidify its identity, and tell its story. These tactics included:
Brand Strategy
Brand Identity
Website
Sales collateral
For the launch itself and to gain and nurture the attention it would receive, Deksia proposed and developed the tactics Accufoam would need. These tactics included:
Trade show booth (SPFA 2020)
Magazine advertising (in SPFA publications)
Digital advertising retargeting website visitors
Email campaign to the trade-show audience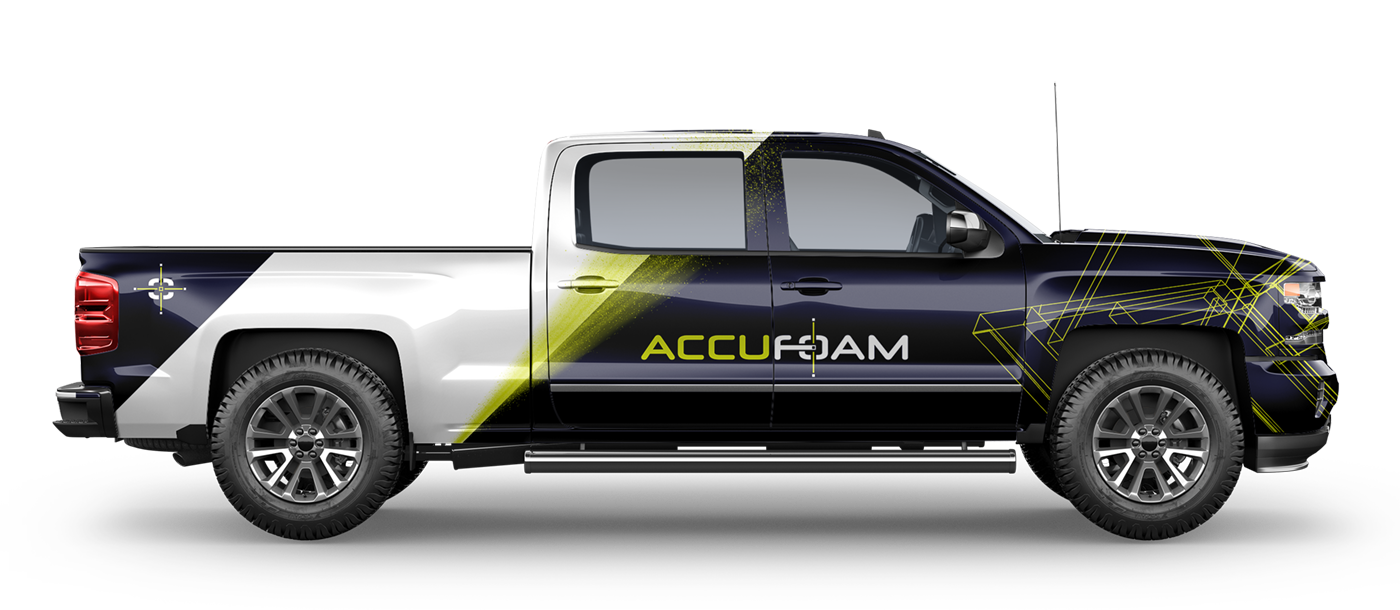 Print Design
Brand Strategy: Archetype & Story Architecture
Accufoam had a name and discovery had revealed many of the features that made it special. And it was clear Accufoam had an impressive story to tell:
A murderers row of industry chemists, executives, and engineers

More than 2.5 years of R&D and thousands of formulas tested

All to create a spray foam so accurate, so precise, that it outperformed others on the market.
The key question emerged: how do you give life and personality to the Accufoam brand? What kind of brand character would support those kinds of stories? More importantly, what kind of brand would strike customers as authentic and credible? What kinds of words, photos, and images would Accufoam use to communicate its message?
To answer these questions, we use a tool pioneered by Jungian psychologists and Hollywood story experts: archetypes. But unlike some creatives who use archetypes to indulge in flights of fancy, we employ them for one particular reason: they give us a shortcut to crafting wickedly effective brand strategies.
In Accufoam's case, several archetypes could fit. The superior nature of its product and the aggressive, well-planned nature of its development would have fit a Ruler archetype. Because the Accufoam team definitely was passionate about and motivated by the creative process, it could be a Creator archetype.
Ultimately, however, through facilitation, it emerged that the most fitting archetype for the Accufoam brand—the kind of brand that would be most compelling in telling its story—was the Magician. To the spray foam contractors who used it, Accufoam seemed like a magical product. It promised to transform ordinary contractors into extraordinary contractors, to transform typical field conditions to provide lab-precise results.
We also created a story architecture that laid out the strategic framework for how Accufoam would speak and the ways in which its message would be communicated.
Brand Identity: Logo and Visual Design
Define the Brand and Make it Stunning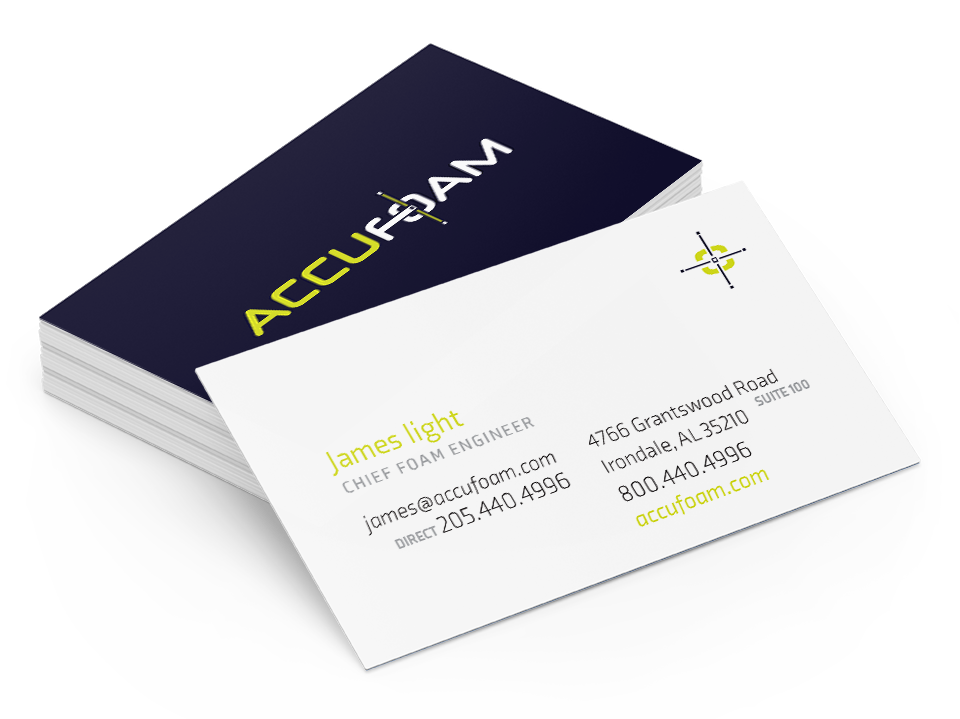 Inspired by the Magician archetype, we then designed a logo, color palette, iconography, and photography style that evoked the emotions and values that a Magician archetype embodies.
Every step of the creative process, we had the archetype to both inspire new designs and ensure that every element we created remained on strategy.
The result? A brand that was as fresh and compelling as the product it would represent.
Website
An Online Home
Today, for nearly every brand, there is one—and often only one—true representation of what a company is and what its brand stands for: it's website.
While Accufoam's ideal customers are spray foam contractors and the distributors who support them, the Accufoam website had to be designed to serve the needs of a wider range of audiences.
• Spray Foam Contractors needed to understand Accufoam and be persuaded to switch
• Spray Foam Distributors had to understand the benefits of Accufoam and know how to purchase
• Home owners curious about their insulation would have to be able to do due diligence on Accufoam
• Architects and engineers needed to be encouraged to specify Accufoam and have their questions answered when a subcontractor used it for the first time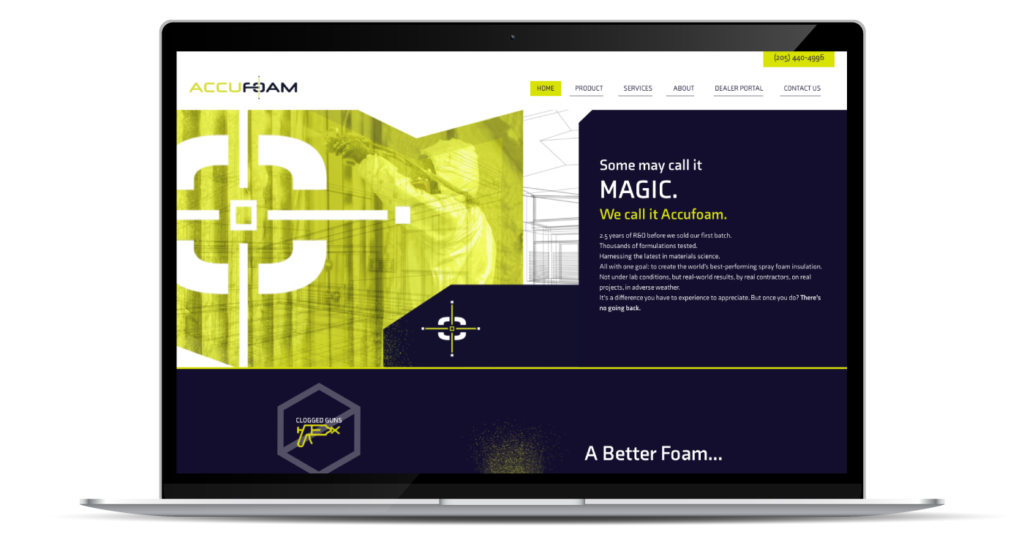 We began with Content Architecture, specifying the key messages for each audience, creating a site map, and ensuring the key pages work to both accurately describe and effectively sell Accufoam.
Then we designed page templates that incorporated brand imagery and graphics with key messaging. But having compelling marketing content isn't enough: websites are not just read; they're used. So we worked to ensure the menu system, calls to action, and downloads were highly visible and easy to use.
With design and content approved, we developed the site, building a custom WordPress theme to ensure the site loads fast, is easy to maintain, and gracefully accommodates desktop, mobile, and tablet usage.
Sales Collateral & Business System
The Brand, Technically Speaking
Often overlooked but vitally important, sales collateral, technical data sheets, and other "run the business" documents are vital touchpoints for every brand. They deserve careful attention and thoughtful design.
In the case of Accufoam, the most important touchpoint for a contractor, distributor, architect, or engineer interested in switching to or specifying its products is the technical data sheet. We designed a data sheet system for Accufoam that meets the expectations of the market for technical data while incorporating subtle elements of Accufoam's visual identity to create a seamless experience from website to download request to PDF.
Print Advertising
Launch with Intrigue
The Woodstock of the spray foam world is the yearly Spray Polyeurethane Foam Association (SPFA) conference. Everyone who's anyone in the industry is there. And the conference issue of the SPFA Magazine is the biggest and most important issue of the year.
Launching at a tradeshow like the SPFA is a double-edged sword. On the one hand, the rewards are potentially enormous. The majority of your target market will be there and in a state where they're predisposed to buy. On the other hand, every other vendor in the industry will be clamouring for your customers' attention. It can be difficult to cut through the noise and be noticed.
This challenge is further complicated by another reality of a launch: as was true in the case of Accufoam, even when you get the attention of your customer, the story of most new products and brands is too multifaceted to convey at a glance.
To overcome those challenges, we developed a print advertising strategy that aimed to create brand awareness with the goal of cultivating curiosity about Accufoam's entrance into the market.
With that strategy in mind, we concepted an approach to the ads that ran counter to how most products were advertised in the industry:
A two-page color ad would be dominated by a striking visual designed to create a sense of mystery and intrigue

The headline would make a bold statement

Body copy would provide the bare minimum of detail but focus on a core aspect of the brand story. (In the first ad, the extensive R&D that was its origin story.)
The ad in the SPFA Magazine conference issue did its work. Throughout the convention, there was buzz about Accufoam. Traffic to its booth was high. And there was a sense that Accufoam was up to something big.
The initial ad laid a foundation. Future ads would develop the Accufoam story in the minds of potential customers while sticking to its iconic layout and bold visual style.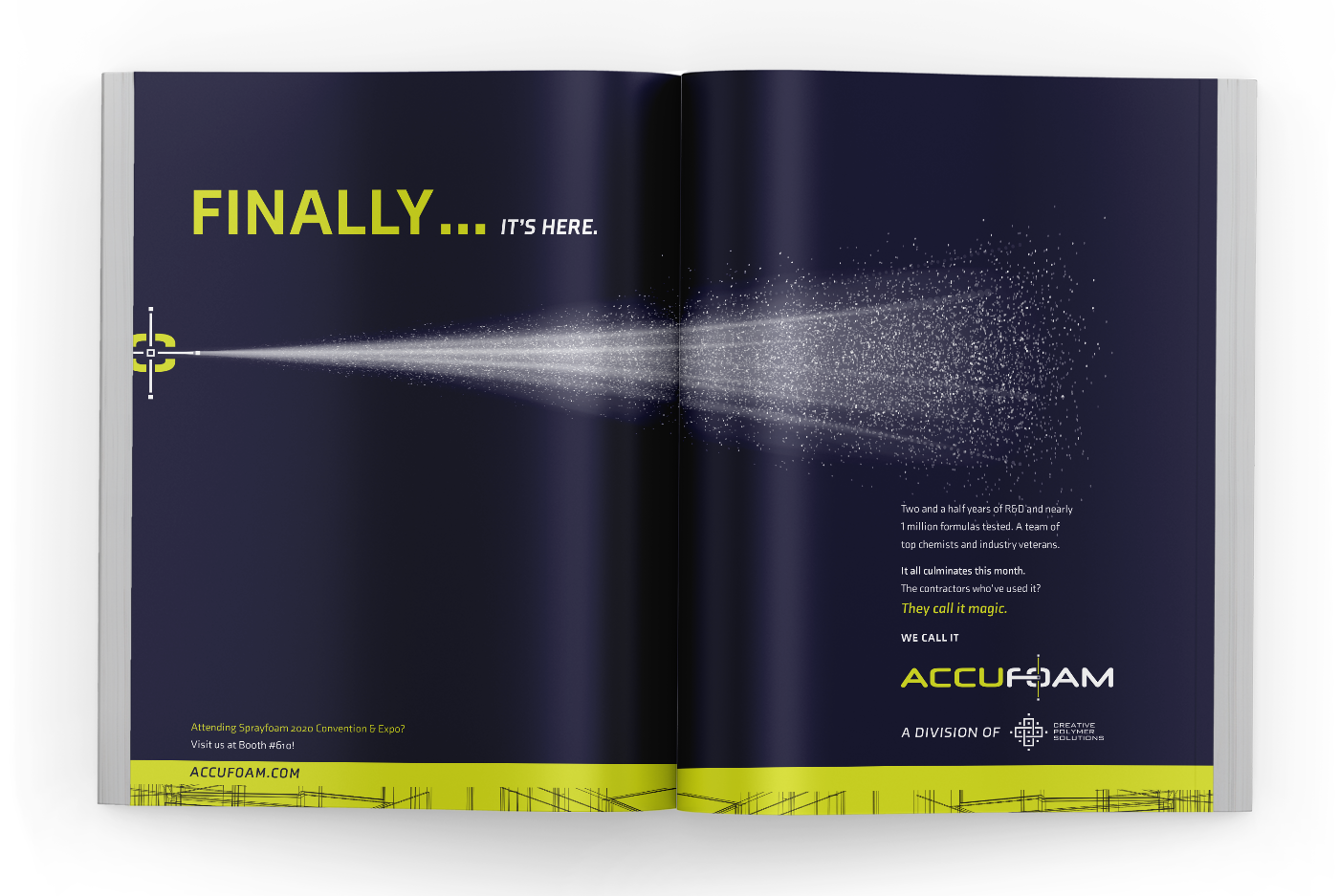 Trade Show Booth
A Home Away From Home
Accufoam made the decision to launch with advertising at the SPFA conference before it decided to commit to a trade show booth. But when space became available as the show approached, Accufoam made the decision to dive in with both feet.
Working closely with Accufoam's existing trade show booth vendor, we designed banners, table runners, and signage for its booth with a goal of creating a branded presence for Accufoam within the constraints of what could be produced on a very tight timeline.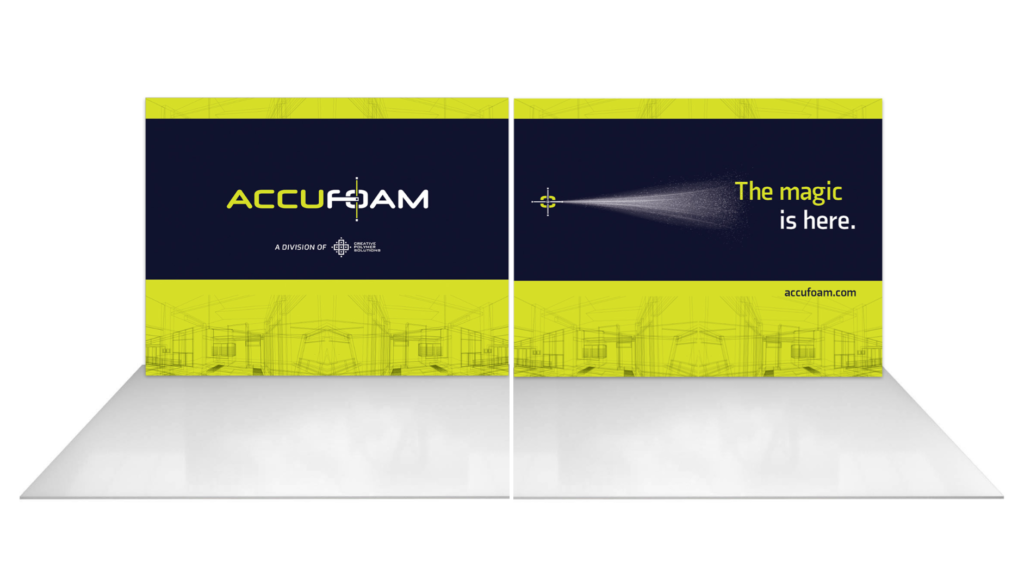 The resulting booth was consistent with Accufoam's high-end aesthetic and contributed to its success at the SPFA show. Leaving the tradeshow, Accufoam had strong interest from leading distributors and active conversations with many contractors interested in potentially switching their business to Accufoam.
Email Campaign
Nurturing Customer Relationships
Accufoam's launch at the SPFA convention was a huge success. It returned with active interest and had built an email list with more than 1,000 names of industry insiders who had been exposed to the Accufoam brand.
The mistake most companies make, however, especially after the push to get ready for and then work a signature tradeshow, is not to nurture the momentum they've acquired.
You can generate interest from a tradeshow, but unless that interest is nurtured, within a matter of weeks, enthusiasm begins to wane.
We recommended and then managed an email campaign to the SPFA attendees who expressed interest in Accufoam. We adopted a once-weekly cadence that progressively enriched the Accufoam story, highlighting one message at a time the key selling features and story elements that gave the Accufoam product and brand such potential in the marketplace.
The email campaign was a success. More than three months after the show, open rates remained above 30% on average and click through rates to the Accufoam site were regularly in the double digits.
From its tradeshow launch to the consistent follow up, in a few short months Accufoam had emerged from obscurity to become a recognized contender in the multi-billion dollar spray foam insulation industry.
Let's start making a plan to unify your marketing to reach your goals and maximize your investment.