Veenstra's Garage
Case Study
Meet Mike Veenstra and his company: maintaining authenticity while raising the bar on marketing.
Veenstra's Garage is an auto mechanic shop located in Grand Rapids, Michigan, with more than 90 years of experience and three generations of auto repair specialists under its roof. Mike Veenstra, the company's owner, first reached out to Deksia in 2015 looking for a change in the way Veenstra's Garage attracted customers.
One defining quality of Veenstra's Garage is that it can service any type of car, as opposed to dealerships that work with specific brands and models. It is also known for its customer service, with devoted and flexible employees looking to help their clients in any way possible, as fast as needed. Veenstra's understands that living without a car is a hassle, and so people need their cars to be returned to them safe-to-drive and in a timely manner. They select their staff according to expertise, work ethic, and genuine empathy for customers.
Veenstra's Garage, with so much history and success, had a good idea of who they were as a company. However, they were trying to grow their business and spread brand awareness but they didn't know how.
Mike Veenstra reached out to Deksia in hopes that we could help them generate brand awareness and in turn, attract a base of new, loyal customers. We approached our strategy with four goals in mind:
Develop a revamped marketing plan to reach new potential customers
Boost social media engagement
Distribute oil change coupon to new potential customers
Increase average ticket sales of $200 for new customers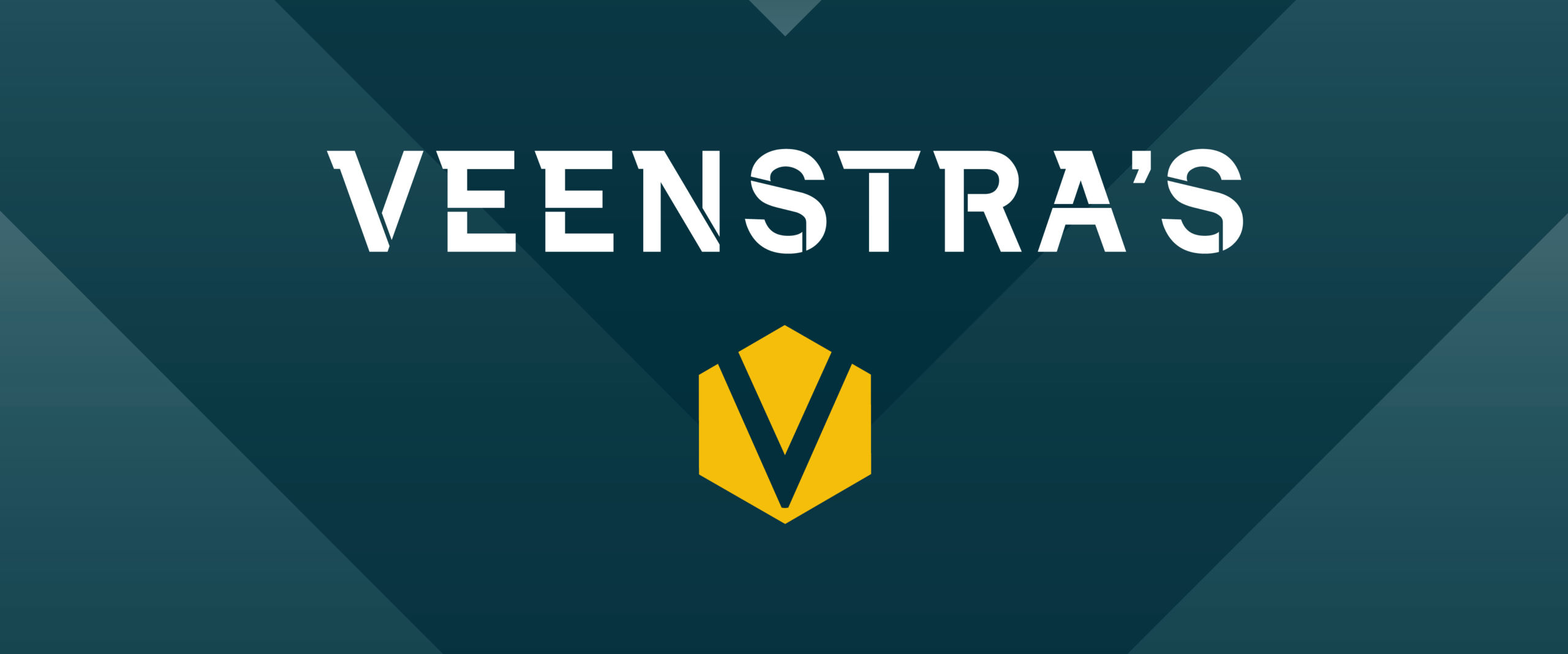 Discovery
VEENSTRA'S GARAGE IS UNIQUE FROM COMPETITORS
WE FOUND OUT WHY.
Veenstra's Garage provides a reliable, customizable car service that doesn't discriminate between brands or models, unlike dealerships with similar services. A family-owned business with near a century of experience, Veenstra's Garage provides a truly one-of-a-kind service.
The only problem?
Communicating this to new customers, some of which weren't necessarily looking for a new car repair company.
Though Veenstra's Garage had been around for 80 years when they first came to us, branding and marketing have changed immensely since the 1930s. An old business with timeless appeal, Deksia looked to expand its advertising and branding to the digital world. Deksia dug deep to uncover the outlines of their vision, the origin of their values, and their future objectives. Though direct mail campaigns were already considered to be working, Mike was interested in testing our ability to promote his offers using Facebook's sophisticated advertising platform.

Brand Strategy
Simple, Fast, and Effective Marketing for Results
Our design and copy teams worked together to create an advertisement that caught eyes, featured Veenstra's oil change offer, and appealed to the credibility and trustworthiness of Veenstra's Garage. Over the course of 1 month, we ran a series of these targeted Facebook ads.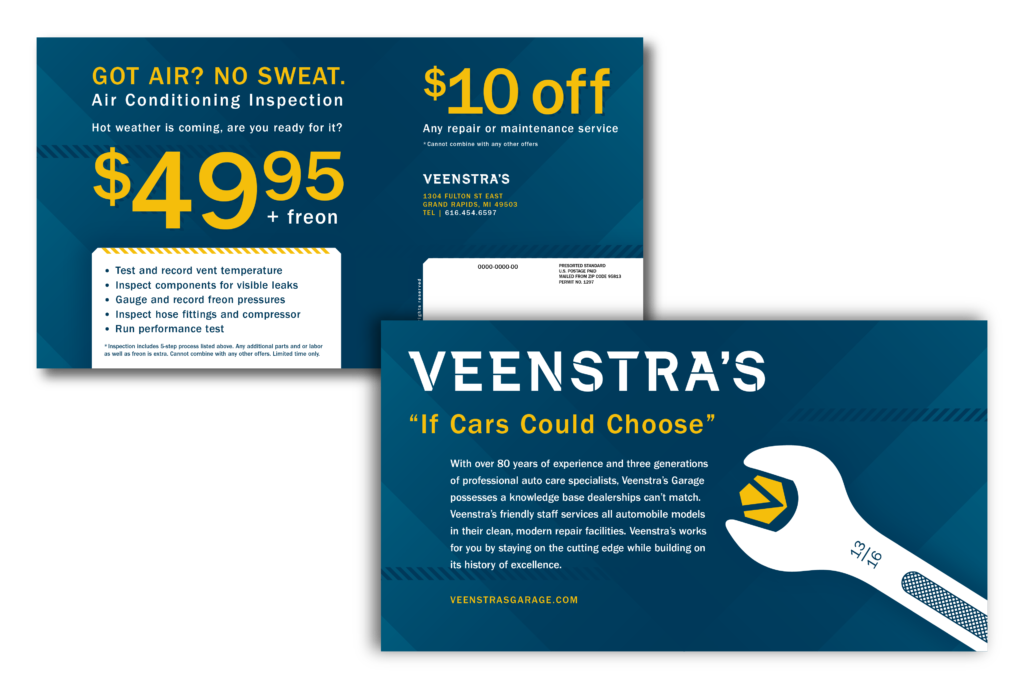 Through continuous testing and optimization, we were able to narrow down our digital ad targeting to only the individuals who were most likely to claim Veenstra's oil change offer. When finished, the latest digital ad targeting group accounted for nearly 50% of the total number of oil change offers claimed.
This precision and specificity can only be attributed to Facebook's high-tech targeting advertising combined with the experts from Deksia's marketing team. This strategy leads to high revenue because Veenstra's Garage didn't have to do extra work to convince people that they needed a new auto mechanic. Deksia simply helped them to find people who already knew that they needed help, and just required a push in the right direction to act on it.

Results
Revamped and Renewed Means of Communication
The results from Veenstra's oil change offer were very optimistic. Veenstra's reported a total of 57 oil change offers that were redeemed. More importantly, of the 57 redeemed offers, 42 were from new customers! The average ticket price for new customers redeeming a $12 oil change was $207.00, contributing a total gross sales of $9,697.00. Not bad for a coupon offer!
Going further, we asked Veenstra's to assess the lifetime value of a new customer. They discovered that a new customer's lifetime value averages around $2,500. According to their data, the 42 new customers acquired for Veenstra's Garage equates to $105,000 in new business! Not bad, huh?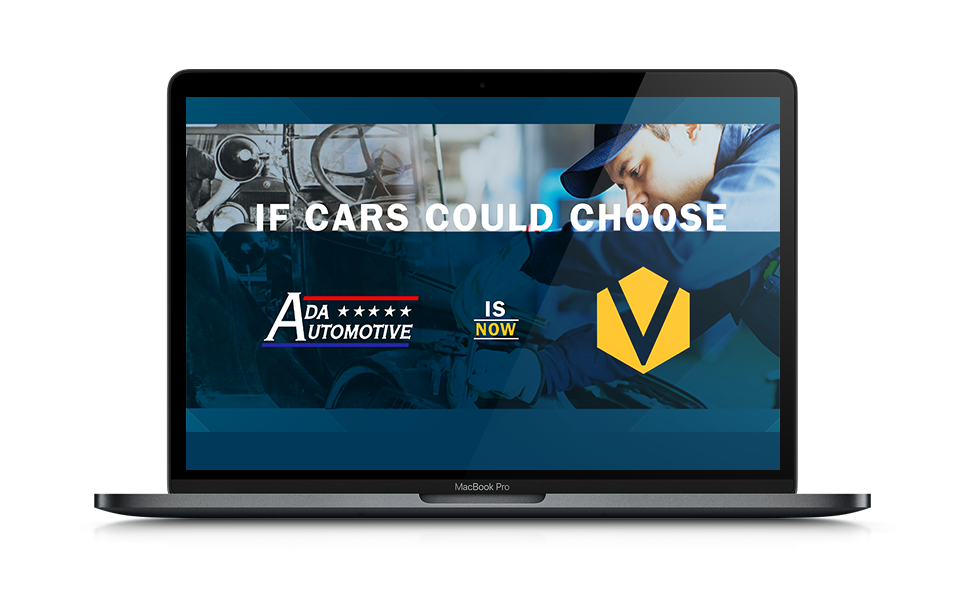 Look at it this way:
For every $1 that Veenstra's invested in their digital advertising spend, they received $14 in new sales generated for the company. Veenstra's Garage was so pleased with the results of their initial Facebook ad campaign, they doubled down for a second campaign the following month.
Our proven process allowed us to execute our marketing strategy with impressive results, and we could do the same for your business! Deksia will give you the guidance you need to grow your business. Reach out today to start finally seeing the marketing results you're looking for!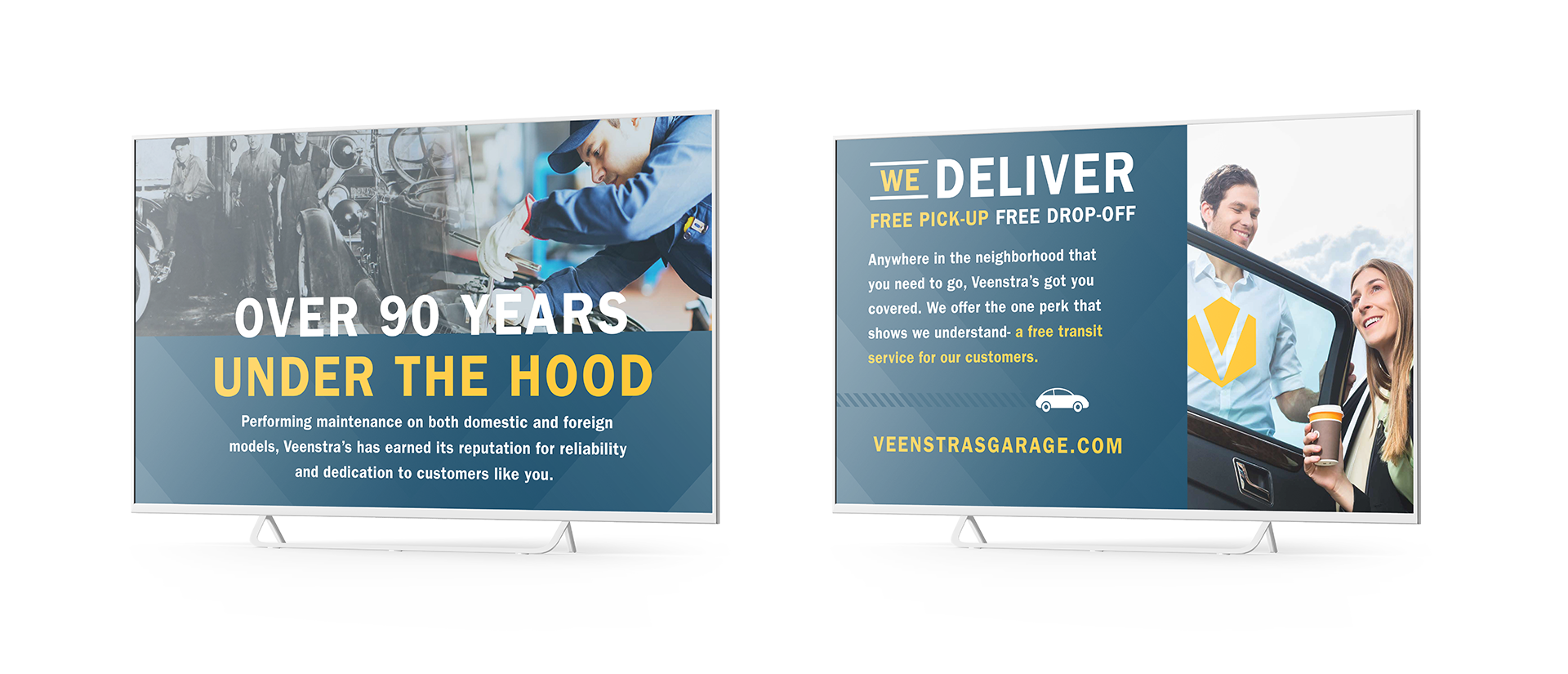 Let's start making a plan to unify your marketing to reach your goals and maximize your investment.