Strategic Brand Partnerships For Small Businesses
Strategic Brand Partnerships For Small Businesses
We interact with them in our daily lives and may not even realize their far-reaching significance. They employ more than half of America's working class and are a major assets to their local communities.
What are they? Small businesses.
Small businesses play a key role in their community's identity and economic health. They offer uniqueness and diversity in a world that is becoming more and more monopolized. Small businesses provide healthy economic competition and incentive for innovation. By having neighbors helping neighbors and friends helping friends, small businesses really are the backbone of the economy.
As a small business ourselves, understanding of how to leverage strategic brand partnerships is crucial for not only scaling our own business, but growing our clients' businesses as well.
In most cases, marketing agencies are a dime a dozen, and local competition in our Grand Rapids and Des Moines markets can appear to be fierce. One of the ways we've validated our success on a national level is through our brand's partnership with Clutch. This allows us to showcase our level of professionalism and execution, setting us apart from both local and national competitors.
Clutch is a leading B2B ratings and reviews platform that collects unbiased, verified client interviews. Their sister site, The Manifest, also allows clients to look through company listings as they decide who to hire for their projects.
Since partnering with Clutch, we've received over 25 reviews and have an impressive 4.9-star rating! Clutch helps small businesses compete and promote themselves and in return, we get to grow our online presence and our business.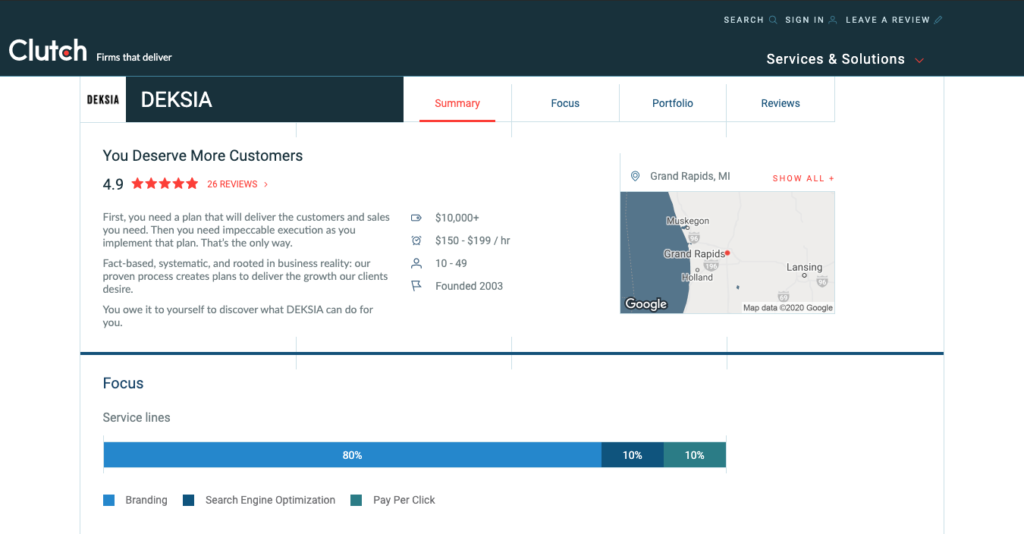 Our reviews help us recognize our employee's contributions as well as improve products and services. As we've always emphasized, our team's proven process creates effective plans and provides impeccable execution that will deliver the growth you want to see in your business. We take pride in our work and the team members who make it happen.
In a recent project, we partnered with one of the furniture industry's leading U.S. based metal fabricators, OMT-Veyhl, a company who is responsible for holding up the desks and other fixtures within offices around the world. But had very little brand recognition, and no real marketing strategy in place when they reached out to us.
OMT-Veyhl's product development and marketing manager Nick Fernandez commented on our proven process when they first started:
"In the beginning, they weren't just telling us what we needed to change. Their team wanted to talk to anybody that made decisions at our company to understand who we are and where we want to be in five years. They assessed all of the information before they started telling us what we needed to do differently."
Once the right messaging and brand strategy was determined, we got to work aligning their assets and creating new marketing materials for the brand.



We find that Clutch is one of the most thorough review platforms when it comes to encouraging our clients to share their experience with us. Fitting well with our agency's passion for driving measurable results, Clutch asks with every review "What evidence can you share that demonstrates the impact of the engagement? ". Here is how Nick at OMT-Veyhl responded:
"We've had the most leads from digital marketing in the last fourth months with DEKSIA. Internally, there's now corporate alignment on who we are. We have a tag line that we see everywhere. People use it in their emails and our sales team works it into their pitches. It's been a big success because everyone's adopting the brand. People love the logo and want new shirts with it."
We are so grateful to Nick at OMT-Veyhl, and to all of our reviewers. From the bottom of our hearts, we truly appreciate the time you took to give us constructive feedback. It allows our team to reflect and strive towards delivering the best solutions you deserve. There's no way we could accomplish what we do with our DEKSIA team members! If you'd like to see some more of our past work, be sure to check out our case studies!