Rebranding Strategy: Your New Brand Should Represent Who You Are, Not Who You Were
Rebranding Strategy: Your New Brand Should Represent Who You Are, Not Who You Were
Many, if not most companies are not exactly sure what rebranding strategy looks like. Companies are not sure why they should do it, what it looks like, or how it should be done.
Rebranding can be very beneficial to a company that is in need of a new brand vision! You may have outgrown your brand or maybe you're failing to differentiate yourself from your competitors.
For Old Spice, they had to go through a series of rebranding successes and failures that make them the brand they are today. Believe it or not, that could be you too!
Using Old Spice's rebranding story and some insight from the Deksia team, let's dig into rebranding strategy and find the best way to represent your brand the way you need to.
What Is Rebranding Strategy?
Rebranding is the process of changing the corporate image of an organization. It is a market strategy of giving a new name, symbol, or change in design for an already established brand.
With brands that already have an established identity, there's a balancing act of making sure they're still recognizable to potential clients who will work with them based on their built-up brand equity.
Old Spice has been a well-recognized brand since 1938. Old Spice offers male grooming products such as deodorant, shampoos, body wash, and more. Before 2009 Old Spice's audience was men older than the age 50. Old Spice was known as the brand that your grandfather smelled like.
For Old Spice, it was hard to attract the younger generation. That's why Old Spice needed to rebrand to attract all age groups. In 2010, Old Spice released their new brand image during the Super Bowl.
Why Should You Rebrand?
There are many different cases on why a company should rebrand! If you're looking to rebrand because there is a macro problem or internal issues, then you shouldn't be focused on a rebranding strategy.
Here are a few good reasons why you should be looking to rebrand:
Connect with a new audience – We see this will Old Spice! If you're willing to research your potential audience and promote a new brand image to reflect them, people will take notice. It's important to note that you should be careful when rebranding for this reason because you don't want to lose your current clients.
Keep your brand current – Another good reason why you should rebrand is to stay up to date with the time you're in! A good example of this kind of rebrand strategy in the retail industry. We see that large companies like Nike, Reebok, and Adidas constantly change their brand image to keep their brand current.
Reflect on new goals – It is hard to be able to reflect on your new goals without a new brand image. We said it once before and we will say it again, "represent who you are, not who you were."
Set yourself apart from your competitors – With a rebrand of your company, your business can become the new industry leader. If you are looking to rebrand to set yourself apart from your competitors then you need to focus on what you offer that is unique from your competitors.
Attract Attention – Rebranding your company is a great way to attract attention and around curiosity. More people can become interested in your brand when you release a new image!
What should a good rebranding process look like?
We believe that a good rebrand should be based on four key elements of rebranding: shareholder research, current client research, potential client research, and competitive audit.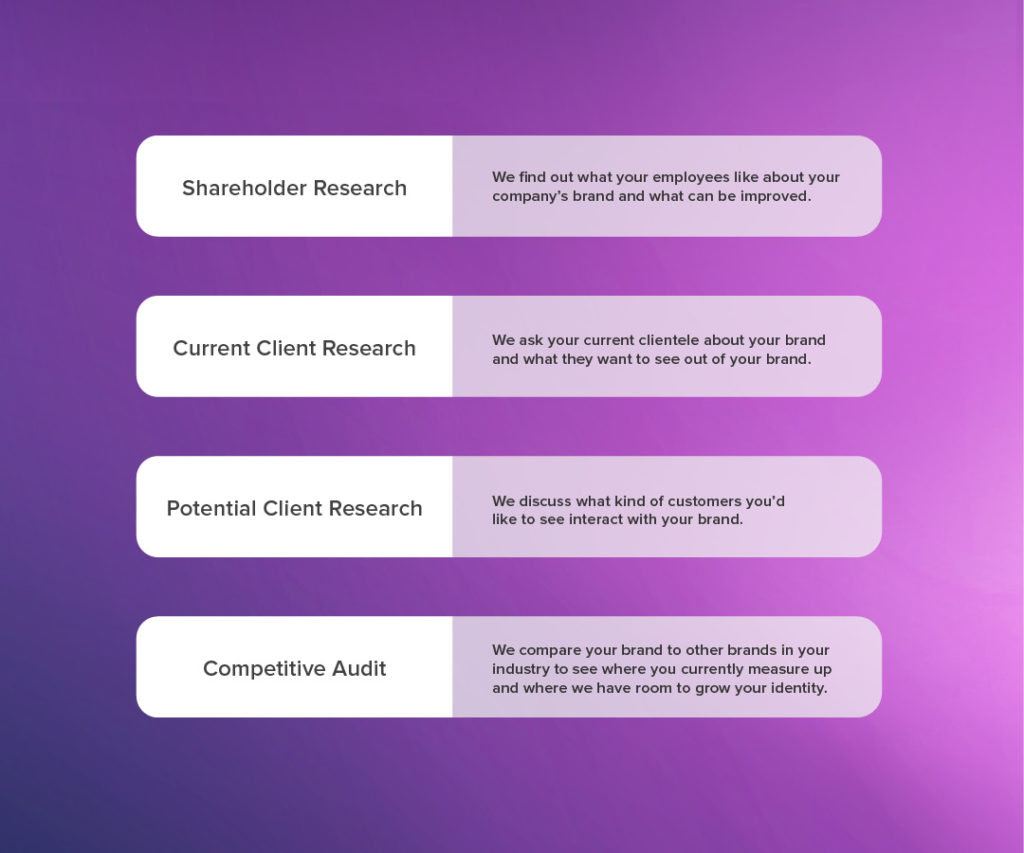 Using all of these tools, we identify the big idea or message you will base all further brand decisions on.
For Old Spice, their big idea was attracting a younger audience and gaining a larger market share.
A big idea is essential to further brand building. It acts as the foundation that all other brand pieces must rest on for the sake of continuity and clarity.
Conclusions
This is a glimpse into the world of a rebranding strategy. We hope this article helps you understand why you should rebrand, what it looks like, and how it should be done.
If you are looking into rebranding your company, Deksia offers a wide range of branding services that can help your company reach the top! Feel free to visit our website where you can fill out our contact form. Or, give us a call at (616) 207-3610.
If you found this to be beneficial to you, then I'd advise you to check out our next blog 7 Questions To Answer When Establishing a Brand.