Facebook Case Study: Creating a Successful Social Ad
Facebook Case Study: Creating a Successful Social Ad
Whether you're a digital marketer or just a regular person trying to figure out how to advertise like a digital marketer, this blog is for you! When creating a successful social ad, it's first important to know what a social ad is. A social ad is an advertisement set up on a social media platform.
Pretty easy right?
Well, social ads are one the most efficient and quickest ways to grow awareness for your company! When using social ads like Facebook Ads Manager, you need to realize that there are a variety of different ways that you can set up an ad. You got the objective of the ad, type of media, the length of copy, and much more we can look into.
The digital team here at Deksia took a sample of 10 different social ads from 8 different clients of ours to help answer this question. Let's get into some fun.
Facebook Ads Manager Is A Great Tool For Marketing Your Company Online.
Facebook Ads Manager is an ad management tool that lets you run ads on Facebook, Instagram, Messenger, or Audience Network.
With Ads Manager you are able to
Create ad mockups
Create Campaigns
Manage multiple ads at once
And view up-to-date data on their performance
When it comes to creating the actual campaigns on Ads Manager there are a lot of cool features that you can use that are not on other marketing platforms. Facebook Ads Manager has various targeting methods to help market your ad to the right audience. For example, these are just some of the targeting methods you can use.
Info on their profile
Pages your target audience has liked
Demographics
Location
Facebook Group members.
etc.
If built correctly, you will be able to notice leads coming your way because you are putting the perfect content in front of the perfect audience.
Let's Talk Advertising Metrics…
For our data, we decided on some advertising metrics that would be the best to measure the success of an ad.
Click-Through Rate (CTR) – This is the percentage of times people saw your ad and performed a click.
Impressions – The number of times your ad was seen on screen.
Engagement – The total number of actions that people take involving your ads.
Now that you have some insight on Facebook Ads and the advertising metrics we will be using to back our findings, let's discuss a few areas that were found to be more successful when creating your social ad.
Start With A Campaign Objective!
The first step to a successful ad is to set an objective at the campaign level. It is important to tell Facebook Ads what results you want to see so they can best optimize your campaign.
There are a few different categories that you can set for a campaign objective: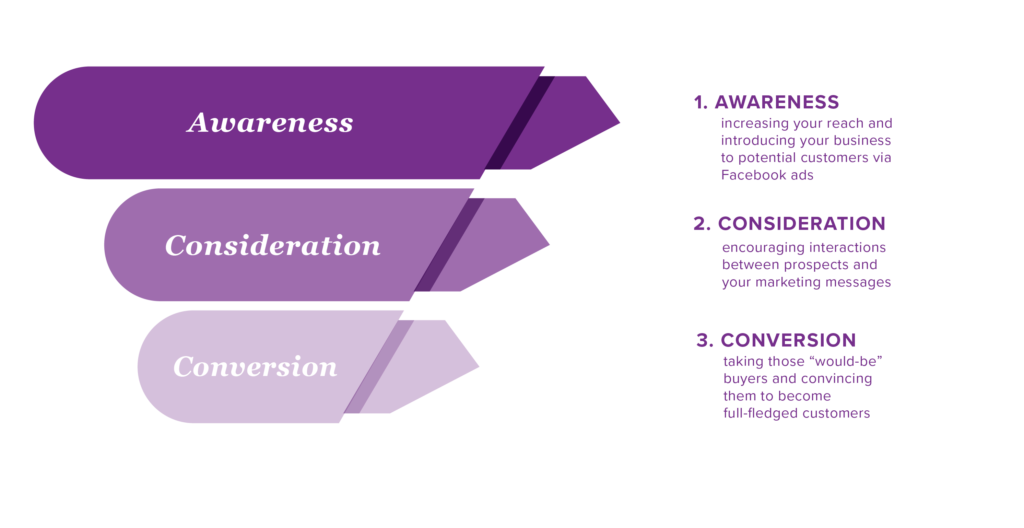 Awareness, consideration, and conversion are part of the marketing funnel and are very important when choosing your campaign objective! The marketing funnel helps you plan out the phases of every customer journey. Facebook Ads is wonderful because they have different sets of objectives in each category of the marketing funnel. The digital team here at Deksia likes to focus on the goal of awareness and traffic and reach for our campaign objective.
Which Type of Media Works Best?
Facebook Ads offers a wide variety of different types of media you can use for your ads. In our study, we noticed that ads that offered media with videos were the most productive types of ads.
If we took the click-through rate of all the ads that contained a video, we would boast an impressive 2.79% click-through rate. This is almost 1% more than the average click-through rate of all ads at 1.89%.
Another impressive metric that ads with videos see is the number of engagements. The average for video ads is 954 engagements compared to 580 engagements for all ads.
Let's use one of our clients, for example, this West Michigan Orthodontics office has both a photo and video advertisement running. If we compare the difference between the two social ads we see that the ad with a video has 5,422 more impressions and 1.21% higher click-through rate. So if you want to boost your advertising metrics on Facebook Ads, post a short video showing what your brand offers.
Does The Length of The Copy Matter?
Copy is defined as the written material, in contrast to photographs or other elements of the layout.
Copy is very important in advertising because it is where you are able to:
Add keywords that align with your brand
Let people know what you offer
You can add a call to action that makes users want to click
But does the length of the copy matter?
Yes!
Looking at our data, if we take the five ads that are over the average length of all ads we have in our data set, we see some pretty impressive results. In fact, those ads average about 2,621 impressions in just a week! We also notice that the length of the copy boosts our engagement. The five ads with a copy over the average length averaged 474 engagements per week.
What's Next?
A campaign objective, type of media, and the length of copy in a social ad are just three different areas that you are able to see better results in creating a successful social ad.
We also want to note that Facebook Ads is not the only social ad you can market your company on! Here at Deksia, we strive to make sure we assess all areas of the digital marketing ecosystem to find what works best for your company.
If your company needs a brand lift and you are looking for someone to help market your company online, contact Deksia today and see what we can do for you. We offer services like branding, photo & video, websites, marketing strategy, and digital advertising. You can visit our website or give us a call at (616) 207-3610.
If you would like a beginner's guide to social media advertising feel free to check out our other blog!